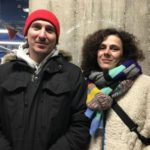 Chrystèle Nicot & Antoine Alesandrini
Chrystèle Nicot (1989) and Antoine Alesandrini (1985) are an artist duo based in Paris whose practice moves seamlessly between film, installation, and sculpture. Their work is concerned with the intersections of cultural economy and technology.
The artists' upcoming projects include in 2021 a solo show organized by the Collectif Diamètre, a collaboration with Orange Rouge taking the shape of a workshop with a class of teenagers from Seine Saint Denis and an exhibition, a presentation of The Usual Office at Saison Video with a talk at the ESAAT (Roubaix). Recently, they launched an online game PRAAB (Programme de réhabilitation par l'amour et l'amitié) that is presented in a development version.
PRAAB is now part of the steirischen herbst '20 festival taking place online, and will be presented at the Foundation Pernod Ricard. In 2020/2019 they were also part of Jeune Création 69th edition and in 2019 the 64th Salon de Montrouge.
Their films and videos have also been presented in film festivals and cinemas such as the Cinémathèque Française, Côté court, Sharjah Art Foundation, Fid Marseille, and so on. They will be working next on a new film, a space drama including artists and an AI-curator for a trip around the moon (the project is supported by the DRAC Île de France).
Rumeurs de sociétés
2-11.11.2020 @ Anca Poterasu Gallery
"It's September 2030 or perhaps another time entirely. The world survives on fables of the past and cautionary tales of the future.
It is the present of dystopias; we've run through so many scenarios that we can no longer be sure which story fits our fragment of reality best. We have built a city of screens and underneath it a village of windmills spreading their whispers around. Our codependency was a strange dream, our love a distraction from work, although I remember being happy when I bought it last year in Hong Kong.
This is today's scenario. A post-apocalyptic scene at the centre of which artists Chrystèle Nicot and Antoine Alesandrini have placed a windmill mock-up, an archaic energy-hub that draws its power from the collective effort that the visitors put in exploring the show. The totemic object installation connects an ecosystem of new media and video-works that systemically challenge the discursive reality, the way a story is told through moving images, sound and text.
Within the Rumeurs de sociétés exhibition, the artists draw from various projects previously developed in Moscow, Hong Kong and now in Bucharest in the disrepaired gallery-space. Confronting themes connected with surviving-mode contexts, Chrystèle and Antoine follow their characters' individual choices in the fallout of systemic societal disasters.
In Intentional Sweat, a love-boat with humanity's last remaining pairings finds its way to a deserted Hong-Kong. There, the last survivors have the chance to reinvent society, yet end up only to resort again to the same hierarchical paradigm that ended their world. In PRAAB online project, a multiple-choice new media scenario re-educates office workers to interact with others again after lockdown. The residency project filmed at Golești Museum is in a loop of two characters' miscommunication, unable to return to a life before computers / telephones / smartwatches / tablets / TV screens…
The show happens in a loop of images and intentions as the visitors influence the way the others listen to or interact with the objects, thanks to a cybernetic system by a team of brilliant young developers: Bogdan Dinica and Tudor Szabo supervised by Adrian Petre and Radu Tebeica through the Coder Dojo Bucharest. Throughout their reflective scenarios that run by a reductio ad absurdum methodology, Chrystèle Nicot and Antoine Alesandrini question the normalized societal rites, especially concerning day-by-day habits and perceptions as they are built in a collective identity.
The current show connects the office-space, the Hong-Kong metropolis backdrop of their feature Intentional Sweat and Golești's first take on Rural Rumours in order to cast light on the various stereotypes as promoted by cinema and mass-media, analysing false realities and dichotomies that create idyllic expectations and distorted outcomes.
In his critique to The Artist as a Producer (by Walter Benjamin), Hal Foster cautions against the dangers of artworks that reinforce societal stereotypes by coming in too close on approaching communities and social systems as mere objects of study, seeing culture-as-text only. "Anthropology, the science of alterity had become the lingua franca of artistic practice…", he writes while weighing in the value of too much distance against that of too little. The artistic duo is acutely aware of the problematic entanglements that Foster underlines, while also fascinated by the interdependencies between cultural constructs to the living societal communities that enact them.
While their artistic research seems grounded in social studies, with topics such as corporate educational programmes, eco-trends amidst digitized personas and atomised communities, Chrystèle and Antoine aim their approach to an in-depth critique and deconstruction of global media discourse and less towards a specific social context. In doing that, they are not entirely up to building dystopian futures – their imagined worlds do not care to explain their collapse based on one specific institutional or governmental trait. Their stories speak about the individuals' failure to simply reimagine other realities altogether. As the wheels keep turning, the same whispers tell the same stories, just in different shapes or forms. With the help of technology and continuous user-data farming, the narrative is even more caught in a self-referential loop. Within Rumeurs de sociétés, dystopian/utopian worlds don't even start or ever cease to exist, they are simply immanent." Text by curator Cristina Stoenescu