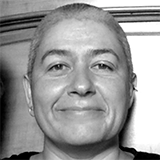 Over the past twenty years Irina Botea Bucan (b. 1970) has been engaged in an art practice that uses multiple media to inspect socio-political dynamics and the possibility of transformation. Irina Botea Bucan's most recent films focus on strategies to undermine such dominant socio-political discourses and to create the framework where minor, unknown, or forgotten histories rise to the surface, forming an unsuspected force field of ideas. Irina Botea Bucan lives in Romania and England.
After graduating from the Art University in Bucharest, the artist earned her master's degree from The School of the Art Institute in Chicago. In 2014, Irina received the 3Arts award, conferred to exceptional women artists.
Since 2013 the artist has been working closely with Jon Dean (b. 1966), sharing his experience in the field of community-based participatory arts and adult learning for over 30 years. Jon Dean also creates independent (cross-platform/film) art work that symbiotically relates to his community arts-focused methodology.
Solo and group shows of Irina Botea Bucan, include: 55th Venice Biennale; New Museum, New York; MUSAC (Museum of Contemporary Art of Castilia and Leon); Pompidou Centre, Paris; Jeu de Paume, Paris; Kunsthalle Winterthur; Reina Sofia National Museum, Madrid; Gwangju Biennale 2010; U -Turn Quadriennial, Copenhagen; 51st Venice Biennale; Prague Bienale; Kunstforum, Vienna; Foksal Gallery, Warsaw; Argos Center for Art and Media, Brussels; MNAC (National Museum of Contemporary Art), Bucharest; Museum of Contemporary Art, Szczecin, Poland; Center for Contemporary Art Ujazdowki Castle, Warsaw. Festivals, include: International Film Festival Rotterdam (Short Special); Artefact Festival, Leuven; Impakt Panorama, Utrecht; Polis Adriatic Europe Festival. Awards, include: 3Arts Visual Artist Award, Illinois; Impakt Film Festival, Silver Award; International Residence at Recollets, Cite des Arts, Paris.
More info: www.ancapoterasu.com/irinabotea
Olaf Stüber is a curator, publisher, lecturer and adviser for contemporary art with a main emphasis on time-based media art. Galerie Olaf Stüber (2001–2011) emphasized moving image works as from 2003 and was one of the very few galleries focusing on artists' film and video at the time.
In 2008, together with Ivo Wessel – a collector friend – Olaf Stüber founded an international platform for artists' films and videos in Berlin: Videoart at Midnight. Taking place at the legendary Babylon cinema, this monthly screening series offers an in-depth insight into the current video art production of Berlin's international art scene. In 10 years and over 100 midnight shows, it has become a central forum for both renowned and upcoming promising artists working with the moving-image.
As the result of an intense reflection on the art market's convention of limitation vs. the artist's and public's interest of visibility in a broader range of collections, Olaf Stüber started in 2012 to publish video art in a unique edition format – the Videoart at Midnight Editions. In a series featuring about six artworks per year, with a higher number of copies than commonly acceptable in the art world, Videoart at Midnight Edition is building up a collectable contemporary omnibus of artists' films and video art installations. It represents today a unique anthology of a medium that is gaining more and more importance within contemporary art.
Furthermore Olaf Stüber holds lectures on video and artists' films, moderates talks and panels on the current challenges of the art market, curates film and video programs for institutions, fairs and festivals and has been member of numerous juries, all around the world. Olaf Stüber is an active member of IKT International Association of Curators of Contemporary Art.
More info: www.olafstueber.de
THE FUTURE OF VIDEO ART
31.03.2021 l online event
For the first Insomnia Event, we are happy to invite Irina Botea Bucan, a filmmaker, video artist, theoretician, lecturer, and currently a Goldsmiths PhD scholar alongside Olaf Stüber, the well-known director of Video Art at Midnight, curator, art dealer and lecturer on video art and cinema. The talk will take place online, on zoom, while waiting for the warm weather to allow us to meet in person soon; in our gallery garden.  
Recent changes in the distribution and reception of video art / film / digital media generate different definitions for time-based art forms. Together with Irina Botea Bucan and Olaf Stüber we invite you to imagine new ways of presenting and understanding video-art in the age of online-streaming and social distancing. The dialogue starts from the extensive experience of our guests with video-art and film-making, focusing on spaces of dialogue for time-based media.
Insomnia is inspired by the artists, curators and the countless conversations that welcome a tireless curiosity in all art-forms. Each Insomnia takes place in Bucharest and is centred around a talk with guests from all corners of the world, and each discussion topic revolves around the main themes of the ARAC ART & RESIDENCY programme: climate change, migration and new technologies.