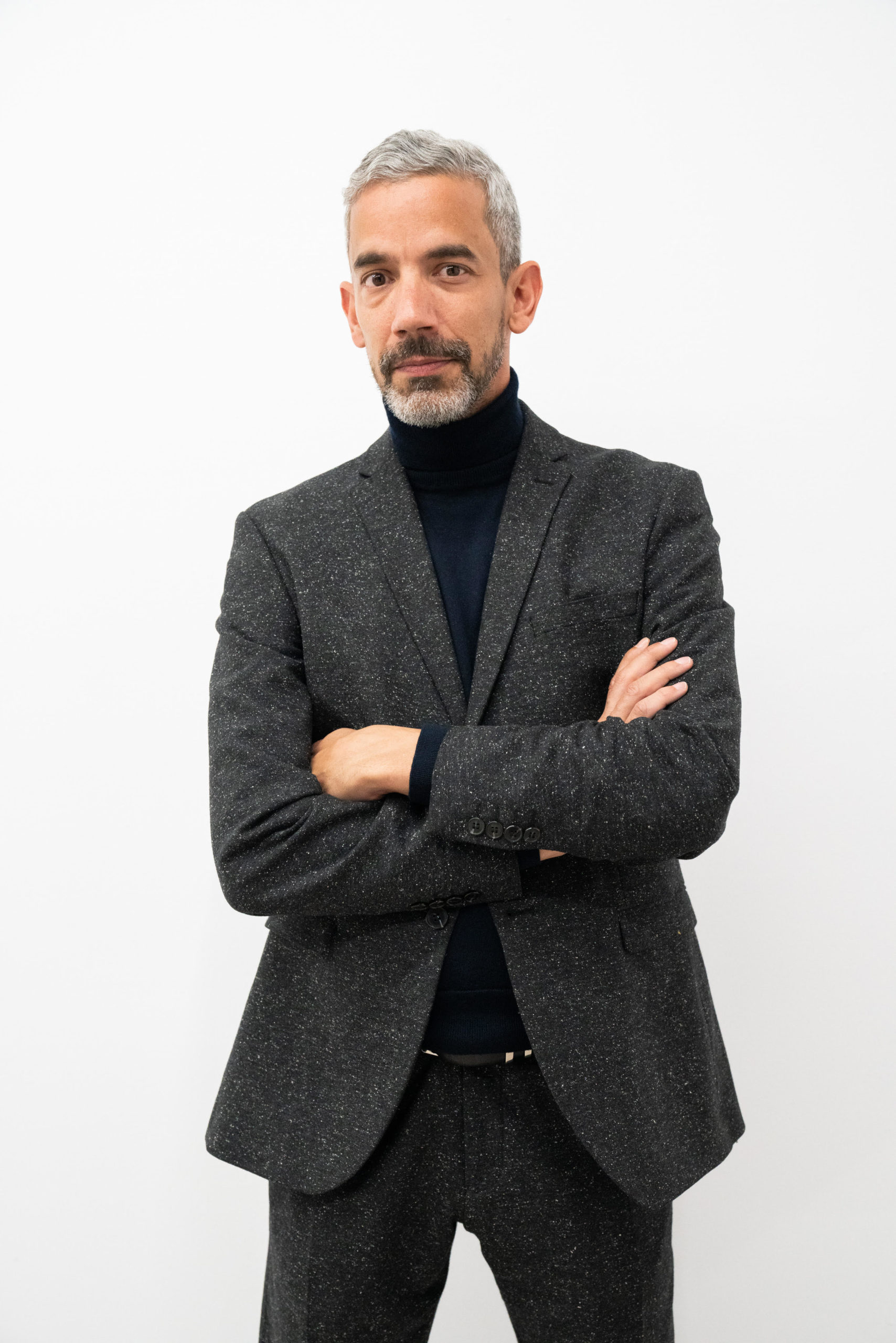 Adrian Notz (*1977 in Zurich) is curator at the ETH AI Center and at the Tichy Ocean Foundation, curator of the 5th Art Encounters Biennial 2023, Timisoara, Romania, mentor for the creative strategy and vision at the European Center for Contemporary Art in Cluj (ECCA), Diplomat of the NSK State, King of the Kingdoms of Elgaland-Vargland and Chevalier de la Tombe de Bakunin. From 2012-2019 he was artistic director of Cabaret Voltaire in Zurich. He worked there first as a curatorial assistant and as co-director.
From 2010 to 2015 he was head of the Department for Fine Arts at the School of Design in St. Gallen. Notz has organized and curated numerous exhibitions, events, conferences, actions and interventions with international artists, activists and thinkers in Cabaret Voltaire as well as internationally around the globe.
In Mask Language, the symbol for the two sides of the mask is: /}/
13.05.2022 l Curator Talk l Anca Poterasu Gallery
Following the screening of Carlos Amorales's film, The Rhetoric of the Mask (2021), curator Adrian Notz will engage in a dialogue with the artist on the masks we wear in the real world, on virtual platforms, our digital selves, our interfaced others.
"Coinciding with the discussion in the mid-90s about the opening of the Western art world to non-Western artists, which was centered on identity and how it had to be represented through the artwork and the person, Internet was introduced in Europe on a massive scale.
In the 1990s, questions about the status of the self in the virtual world and how the private and the public spheres would intermingle became important. In this light, the fictional identity I had invented and was performing was in line with the idea of the avatar as a medium of self-representation that could be projected in the multilayered world of Internet. Because a mask is, by definition, a layer between the inside and the outside, it was the ideal tool for researching this new space that was becoming accessible to citizens around the world.
I became interested in how this liminal layer functioned as situated "in between" the self and the other, the public and the private, the fact and the fiction, and art and reality. I understood that the mask is not only a representational image but a tool to perform in a given time and space, which is defined as the meeting of two realms of existence: the real and the virtual. In the last twenty years these two existential realms have been merged together and become indistinguishable. Society is represented in social media and vice versa, each feeding the other as if forming a closed circuit. Every new generation becomes more accustomed to the fusion of the two worlds, no longer distinguishing the differences between the two symbolical orders. It is as if the mask has become a porous layer – or has simply disappeared." – published on the occasion of his midcareer survey exhibition, held this year at the Stedelijk Museum, in Amsterdam. Inviting you to read more here: https://www.stedelijk.nl/en/digdeeper/factory-manifesto