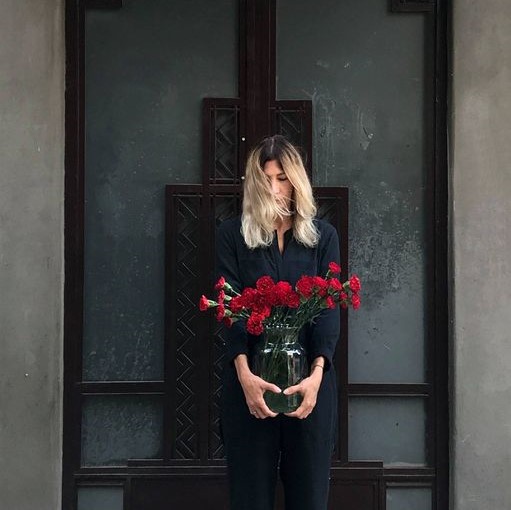 Adelina Ivan lives and works in Bucharest. Her artistic practice is defined by a continuous exploration of textile materials, their limits and their possibilities. Scanning between fictional stories, personal memories and historical facts, Adelina Ivan weaves disparate narratives into a complex relationship. Her practice examines the reflection of light on different textures, structures and geometries in an artistic strife to disclose the making and unmaking of matter, the flow and immobility of time and the deconstructing potentiality of matter.
A self-reflexive architectural language is used in a neutral series of mixed techniques that involve textiles, printing and reproduction techniques, scanned images and videos. Her works featured in shows such as: In Midst of Worst, the Best of Times (SUMO Praga 2020, litost artspace); A Room of One & Own (NADA NY Gallery Week, Harlem, 2020), At Different Angles (The National Museum of Contemporary Art, Bucharest, 2020), The Infinite Convergence (with Decebal Scriba, Spinnerei Leipzig project space, 2020), The Eye of The Storm (Anca Poterasu Gallery, Bucharest, 2020), To restore or how the stable structures need frail gestures (Anca Poterasu Gallery, Bucharest, 2018), The Color of Geometry (PrivateOffSpace, Frankfurt, 2017), Time Delusion (Kube Musette, Bucharest, 2016), Atena adjusting her sandal (ODD Bucharest, 2016). This a selected list of group shows: Black and White Biennial (Satu Mare, 2017), Portaluri (Anca Poterașu Gallery, 2018), Frugalitas Severitas Fidelis (tranzit.ro/Bucharest, 2016), Are We Human (Istanbul Design Biennial, 2016), ReRe. Overriding Design with Art and ViceVersa (Vienna Design Week, 2016).
Read more: https://ancapoterasu.com/gallery-artists/adelina-ivan/cv/
a line that weaves and winds
28 – 29.05.2021 @ Artak350 Residency – Gestavinnustofa
An installation consisting of three layers, with the surrounding landscape as a backdrop. The lines of the mountains and the lines of a salt mount are juxtaposed by a piece of broken glass, resembling the silhouette of nature.
Supporting the installation are a series of sketches on display at the artist's residence, dedicated to the process of recurring movement, in which the linear spread of time is unravelled. Abstract shapes disclose the duality of the body as a topography, as well as demonstrating terrane through the simplicity of linework.
The basis of Adelinas artistic practice is the social and cultural critique of practicing femininity, demonstrated through the human form. She uses the body as a base for putting into balance force and frailty, exposure and protection, transiency and permanence, represented by the idea of rhythm and repetitive motions.